Senior Kids Drama: A Christmas Carol Goes Horribly, TERRIBLY Wrong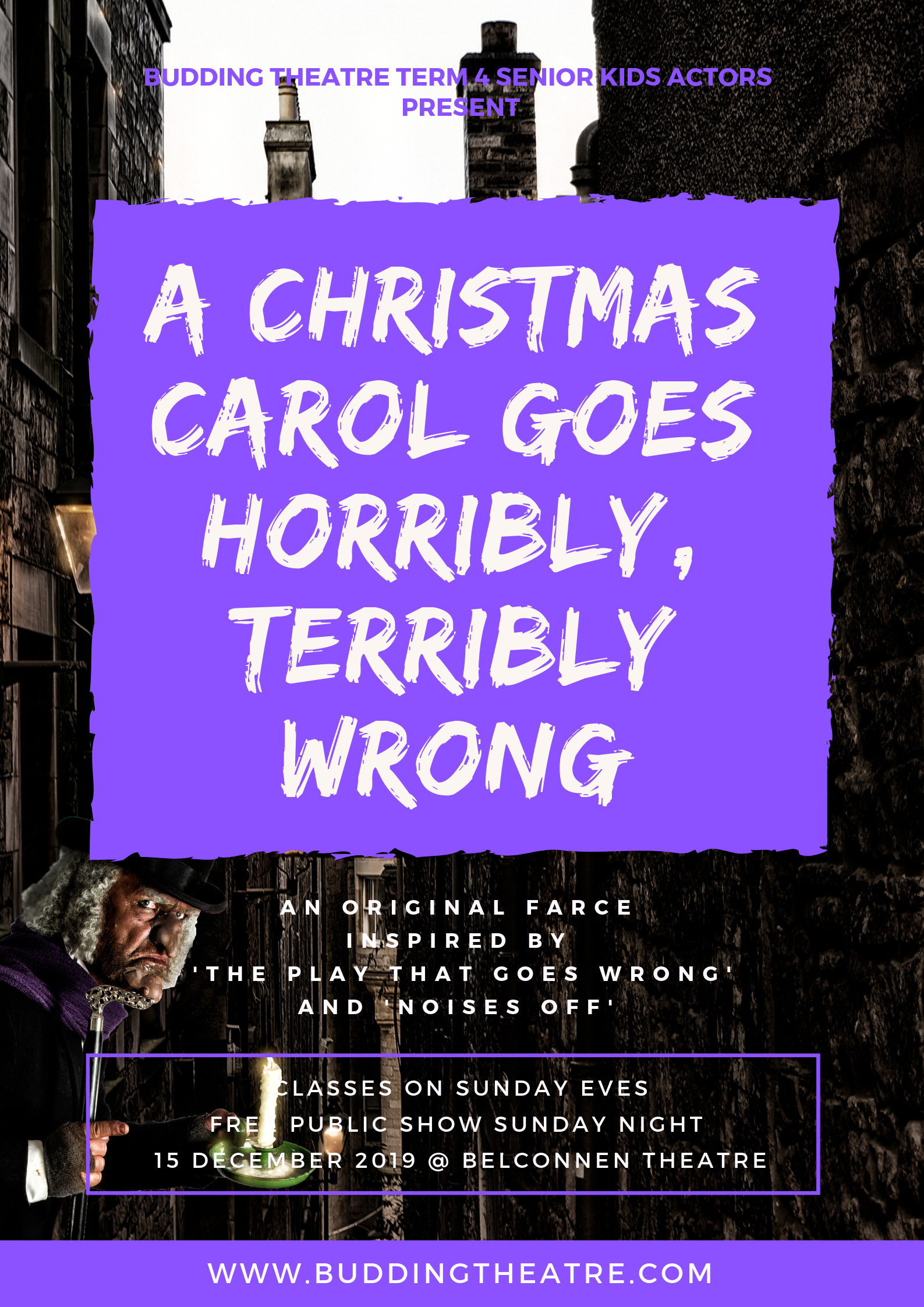 Senior Kids Drama: A Christmas Carol Goes Horribly, TERRIBLY Wrong
Course starts Sunday 27 October. Class time: Sundays 5.30-6.30pm.
Update: CLASS FULL! Our Senior Kids Drama production course is full, but please check out other courses enrolling now including the popular 'A Christmas Carol' and 'Christmas Cinderella'
>>> DOWNLOAD THE AUDITION PIECE HERE TO PREPARE FOR CLASS 1 ON SUN OCT 27! <<<
Inspired by hit shows like 'The Play that Goes Wrong' and 'Noises Off' comes this original play by Kirsty Budding written for comedy-loving performers. This term, senior kids ages 9-12 have an opportunity to perform the same play as our teen class directed by Kirsty Budding - providing a great opportunity for 'big kids' to extend themselves. This course is recommended for performers with some experience and maturity who want a challenge! Want to see the kind of play in store? Scroll down to see a video of The Play that Goes Wrong.
PLOT: The Budding Theatre senior kids drama class want to present "A Christmas Carol" at Belconnen Theatre, but it goes horribly, TERRIBLY wrong. Whether it's Jim AKA Bob Cratchit missing his cue, Laura AKA Narrator missing the spotlight and narrating in darkness, or Nigel AKA Scrooge tripping and knocking over the giant Christmas Tree, things simply do not go to plan and the results are hilarious. This dynamic play requires actors to play two roles: the role of an actor and the role of the character their actor is supposed to be playing (some may also be cast as angry stage managers, frustrated lighting operators and face-palming directors!). A true farce and hilarious Christmas entertainment for all!
The 8-week course ends in a free public production at Belconnen Theatre on Sunday 15th December as part of Showcase Day. Get the family together and enjoy a Christmas comedy!
Term 4 Senior Kids Class Dates 2019: Sundays 5.30-6.30pm at Playing Field Studio, 2 Kingsley St, Acton
Sunday 27 October (week 2 of school term): Orientation and Audition
Scripts and roles are emailed to parents between class 1 and class 2.
This is a fun intro to auditioning; every performer receives a speaking role in the production.

Sunday 3 November (week 3 of school term): Reading & blocking

Sunday 10 November (week 4 of school term): Rehearsal

Sunday 17 November (week 5 of school term): Rehearsal

Sunday 24 November (week 6 of school term): Rehearsal

Sunday 1 December (week 7 of school term): Rehearsal

Sunday 8 December (week 8 of school term): Rehearsal

Sunday 15 December (Week 9 of school term): Dress Rehearsal at 4pm & FREE show in the 150 seat Belconnen Theatre at 6pm. Please see Student Showcase Day schedule here.

Prerequisite: students enrolling in this course must be committed to learning lines outside of class. This course is suitable for beginners as well as more experienced performers. Shy? Don't worry. Lots of actors are introverts. The class environment is relaxed, productive and fun with all supportive of each other's development.

2019 FEES: $275 per term (Earlybird: $250 per term)

Classes Venue: Playing Field Studio, corner of Barry Drive & Kingsley St, Acton. Enter via Canberra Dance Theatre.

TESTIMONIALS
"My daughter has had a great time performing and participating in classes with Budding Theatre. She gets along well with the other kids and it's a comfortable inclusive atmosphere." - Ainslie, Wanniassa
"We have found Budding Theatre to be very professional, uses excellent communication methods, produces theatre productions of a high quality that the kids love performing in!" - Sarah, Macgregor
"My two teenagers have been participating in Budding Theatre courses and shows for the past year and have enjoyed every moment. They have learned much about theatre and the experience has only strengthened their love of this art form. Kirsty Budding is an inspiring and empowering teacher!" - Kirsty Hollow, Wanniassa
"I have been performing with Budding Theatre for 4 years this year and I love it so much. When I started I had little to no performance experience and was very shy. I have now developed my skills and made friends I'll have for a long time." - Breanna Kelly, age 14
Tutor: Kirsty Budding BA DipEd MSt (ANU). Originally from the UK, Kirsty performed widely in theatre before moving to Australia and developing a career in theatre and education. She has been shortlisted for the Sydney Theatre Company Young Playwright's Award (2008) and has won the Canberra New Playwright's Award (2008); the Canberra Area Theatre Award for Best Original Work (2014); the Short+Sweet Festival Best Script Award (2016); the Screencraft Short Screenplay Contest, Los Angeles (Finalist 2017); and the ACT Writing and Publishing Award for Fiction (2018) for her debut book, Paper Cuts: Comedic and Satirical Monologues for Audition or Performance. Kirsty has directed a range of youth and adult productions (most recently Little Women, Miracle on 34th St, Romeo & Juliet, Pride & Prejudice) and is currently working on a new collection of monologues.
CLASS FULL