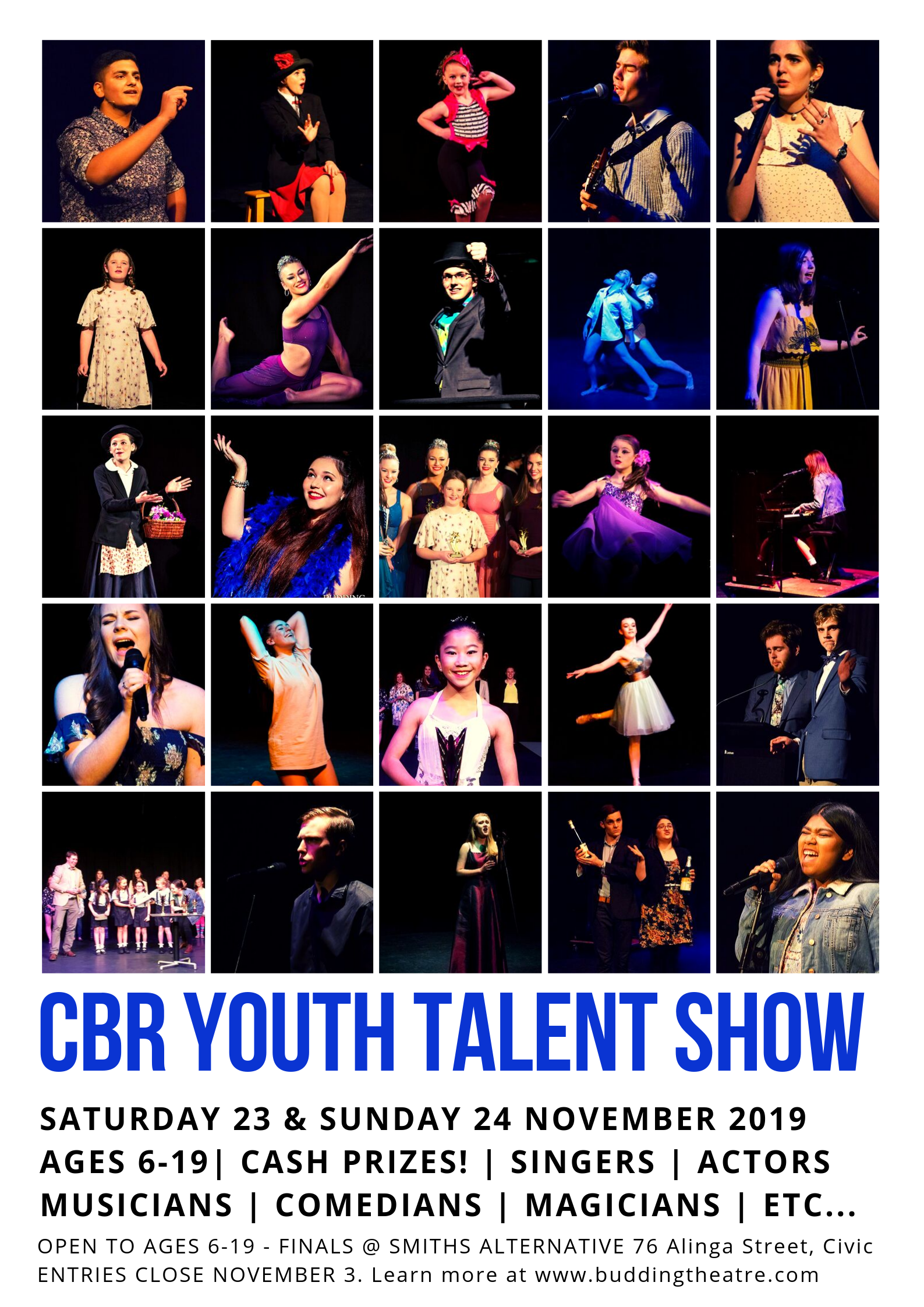 TALENT SHOW ENTRY
Get ready for the fourth annual Canberra Youth Talent Show - a celebration of Canberra's diverse young talent ages 6-19!
Cheer and clap along as young performers showcase their talents from singing to performing magic tricks, playing instruments to performing monologues and everything in between.
Judged each year by a panel of local creatives and attended by adoring fans who also compete for 'fan poster award', this fun event includes cash prizes for winners and fond memories for all.

FINALISTS SHOW TIMES
4pm Saturday 23 Novemebr - junior finalists
8pm Sunday 24 November - senior finalists

VENUE: Smith's Alternative, 76 Alinga St, City.
NOTE: Smiths operates an auditorium with a casual vibe and 100 seat capacity; however due to the smallish size of the stage, dance numbers that require a large stage are not possible (but perfectly fine for song/dance routines that do not utilise much space e.g. tap). We recommend visiting Smith's Alternative yourself and taking a look at the auditorium space if you're unsure if your act will suit.
SUITABLE FOR: anyone aged 6-19 who wants to perform! Whether you're a beginner, an experienced performer or someone who wants to present something a little bit different - we would love to see your entry and we will include as many performers as possible in the final showcase.
IDEAS!
Sing a song! Musical, popular, opera, rap… / Perform a monologue or comedic skit / Comedy - stand up (make us laugh!) / Tap dance / Perform magic or illusions / Play an instrument (must provide own, unless it's a piano) / Anything else you can think of…
Entry fee is $28 per individual performer (contribution to cash prizes, trophies and event costs; if there are multiple performers entering together, individual parents/performers 18+ please complete and note that they will be performing as part of X group).

HOW TO AUDITION

Upload a video of you performing to an online location such as YouTube. You will need to include a link to this video in your audition form.
If uploading to YouTube, upload as an 'unlisted video' (not publicly searchable but available to view if a person has the link). Do not upload as private as we cannot view videos on this setting. Read instructions here.
The performance you audition with does not need to be the same as the one you will perform at the show, but should show your talent and the kind of performance you will present.
You will be advised of the outcome via email and, if successful, will be given a technical rehearsal time DURING THE TWO HOURS PRIOR TO THE SHOW (please keep free!)
AUDITION ADVICE
Please ensure the video and audio quality are clear.

Include a link to a video at an online location such as Youtube (check first that it is viewable by someone else by sending link to a family member or friend)

If you are a singer, please choose a song that suits your vocal range (it is better to sing a song with a narrower range perfectly, than to sing a challenging song and miss notes).

In the audition, show us the same performance or something similar to what you will perform in the Talent Show.

All talents are welcome e.g. stand-up comedy, magic, circus; except anything that could be dangerous such as juggling fire or knife-throwing.

Comedy and song choices must be family-friendly; in the case of the senior show, it is acceptable to include lyrics/content suitable for a teenage+ audience

Musicians will need to provide their own instruments.

You must enter your age as at the time of the show; this is how the age categories will be organised.
DEADLINE: MIDNIGHT SUNDAY 3 NOVEMBER (early entries appreciated!)
Performers who submit early may receive early confirmation of a place in the Finalists Show.